Published on 31/03/2022
To carry out their mission of boosting internal communication, communicators must be creative. This means finding new creative tools to offer original and interactive content.
Creating a banner for a social network, an invitation to an internal event or editing the video of the latest company seminar… To juggle these various contents and save time on a daily basis, it is essential to have practical and easy-to-use tools. And if they are free, even better!
That's why we've selected 5 content creation tools that are essential for boosting your internal and external communication. Who knows, maybe these free tools could be a great help in your busy schedule!
#1 – Canva, to produce original creations easily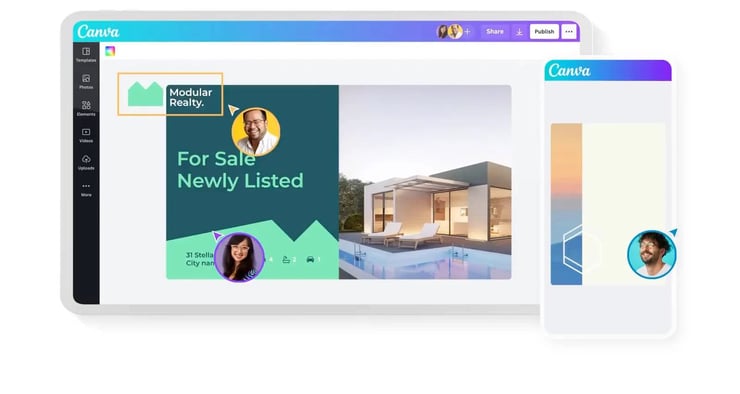 Canva is a bit like a Swiss Army knife for your visual content
Canva is a graphic design tool for creating all kinds of content. Easy to use and intuitive, the tool is perfectly suited to beginners in graphic design. It adapts to all types of media (desktop, tablet, mobile, etc.) and has a large library of free templates to give you inspiration:
Video: animation on social networks, video editing, advert or video message advertisement, etc.
Social networks: Facebook & Instagram posts, coverage, Instagram story, blog banner, etc.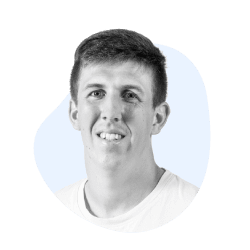 I mainly use Canva for visuals to share on social networks but also sometimes to add elements for my video editing.

Gwenaël, Community manager at Steeple
Marketing: flyer, poster, publications, logo, business card, email header, etc.
Event: invitation, poster, announcement, etc.
Documents: presentation, brochure, letter, computer graphics, newsletter, etc.
As you can see, there are many creative possibilities with Canva! Simply choose a design and drag and drop different elements to create the content of your choice: graphics for social media, marketing materials, event invitations, etc.
Canva offers 3 versions: a free version that has great possibilities with over 250,000 templates, over 100 types of designs and hundreds of thousands of photos and illustrations.
Of course, if you want to go even further, discover even more features and if the 5 GB storage space of the free version is not enough, Canva offers two paid versions: Canva Pro and Canva Enterprise.
#2 – Quik, to customise your videos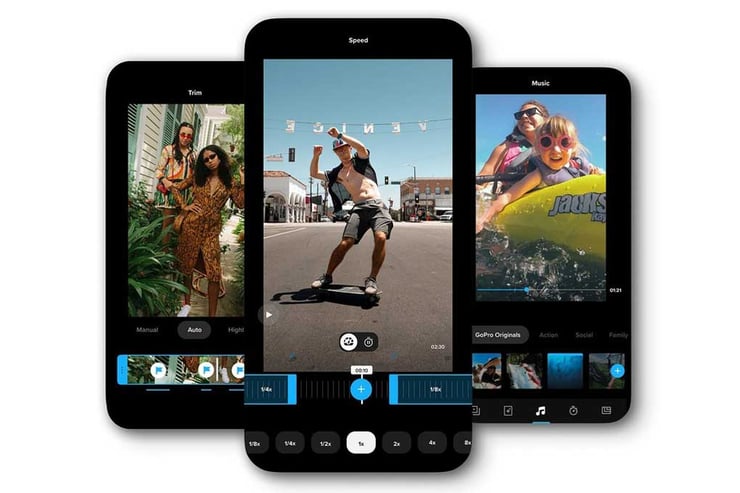 There is nothing like a good video to express yourself and convey a message. But creating a video can sometimes be complicated for various reasons: the editing, the large budget, the technical skills required, etc. So whether you're a beginner or not, don't be discouraged and choose a free and easy-to-use tool like Quik.
Perfect for novices and available in several versions (desktop, tablet, mobile), GoPro's Quik tool allows you to create videos in a few clicks, such as the presentation of a newcomer to the company, the Christmas party, the management's best wishes presentation or the images of the last seminar.
Capture the perfect moment, upload your content and let Quik do the work! The editor also analyses your video clip and automatically synchronises it with the music. Quik is very easy to learn and allows you to create beautiful videos.
Here are the features offered by the solution:
Adding photos and videos
Selecting the video theme and graphic elements : filters, fonts, etc.
Customising your video : crop, title, text, speed up and slow down sequences, add audio, choose the format, cuts and transitions.
Choosing the perfect soundtrack, rhythm, etc.
Recording and sharing videos on social networks, by email, etc.
Generating a video in seconds has never been easier!
#3 – Motion stills, to create your own GIFs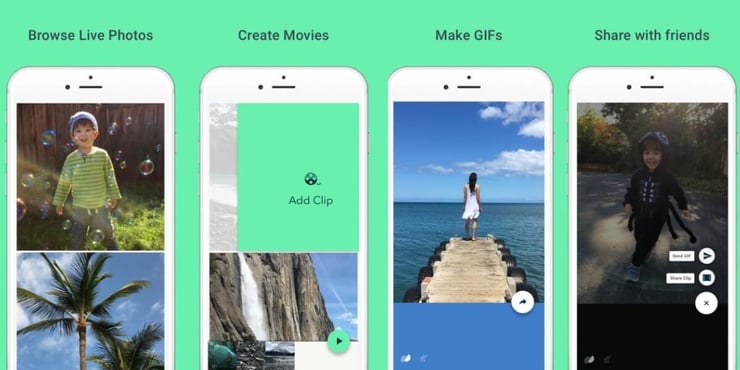 Did you know? GIFs have become increasingly popular in recent years, and can be used to boost your internal communication, for example, GIFs used as the front page image in a Steeple publication, those used in informal messages in an instant messenger or those on social networks.
Launched a few years ago by Google, the Motion Stills application allows you to capture a few seconds of video and turn them into stunning GIFs or dolly shots using its advanced stabilisation and rendering technologies.
The Motion Stills tool has a simple interface and solid features, such as sequence quality or image modifications (image cropping, shake reduction, etc.).
In addition to being free, the tool is translated into several languages.
#4 – Remove.bg to easily crop your photos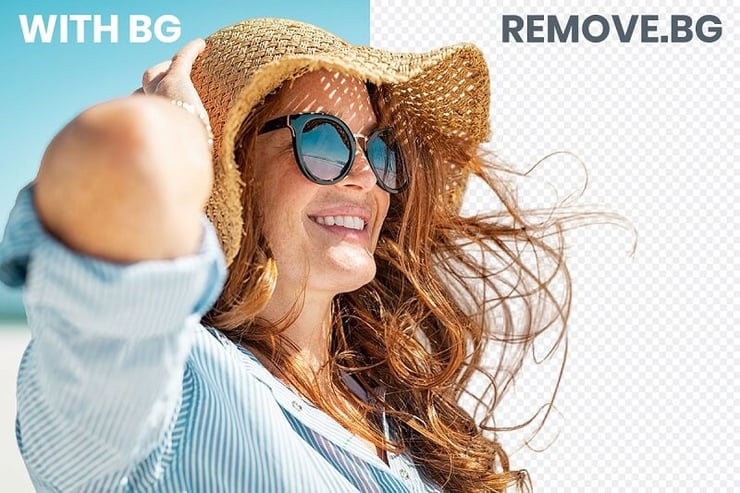 Remove.bg is a tool that removes the background of an image and offers a cut-out version of the image's subject, in only 5 seconds!
Once you are on the Remove.bg website, click on « Select a photo » to choose a photo from your computer, mobile or tablet. You can also choose « Enter a URL » and put the URL of an image.
The good news? The tool is free and does not require registration.
#5 – Photopea, to edit photos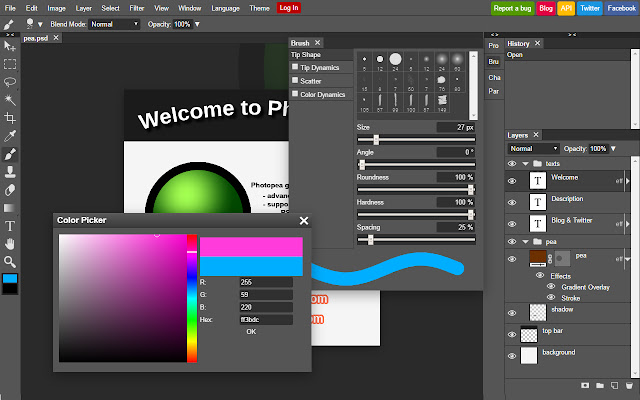 If you are looking for a free, similar alternative to Photoshop, Photopea is an online image editor where you can work without having to download anything. This versatile and easy-to-use tool allows you to edit any image and create high quality editing. It is the ideal tool to start or learn about photo editing.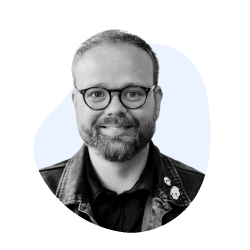 This software is very useful when you are on the move without access to the adobe suite and you need to create a visual or edit a photoshop/XD/Sketch file […]. It is also great for preparing templates of adobe files that will be used later on this tool by people who just need to change some wording or an image.

Nicolas, Web Designer at Steeple
This is what the tool offers you:
Multiple features such as the choice of templates
Necessary tools: masks, layers, filters, vectors, etc.
Compatibility with many formats: CDR, XD, Sketch, XCF or PSD
A backup in several formats: PNG, JPG or SVG
Sharing on social networks
Over 20 languages available
Thanks to these tools and their varied contents, you will certainly boost your communication. Videos, photos, GIFs, there are all kinds of content that will allow you to capture the attention and engagement of your social network communities externally, but also of your employees internally.
About the author
Cléophée Piron
Content manager