Published on 01/04/2020
72% of employees are unhappy with the way their company communicates with them.
This is probably not news to you and the reason why you want to find a solution to improve your internal communications. However, it's not always easy to navigate your way around the wide array of tools on the market.
Yet, one thing's for certain : you need to replace your paper notice board with a digital solution that is more visible and effective. To help you make an informed choice, we've pitted Steeple against dynamic signage solutions.
The whistle blows: the match is underway!
#1 - Dynamic signage vs. Steeple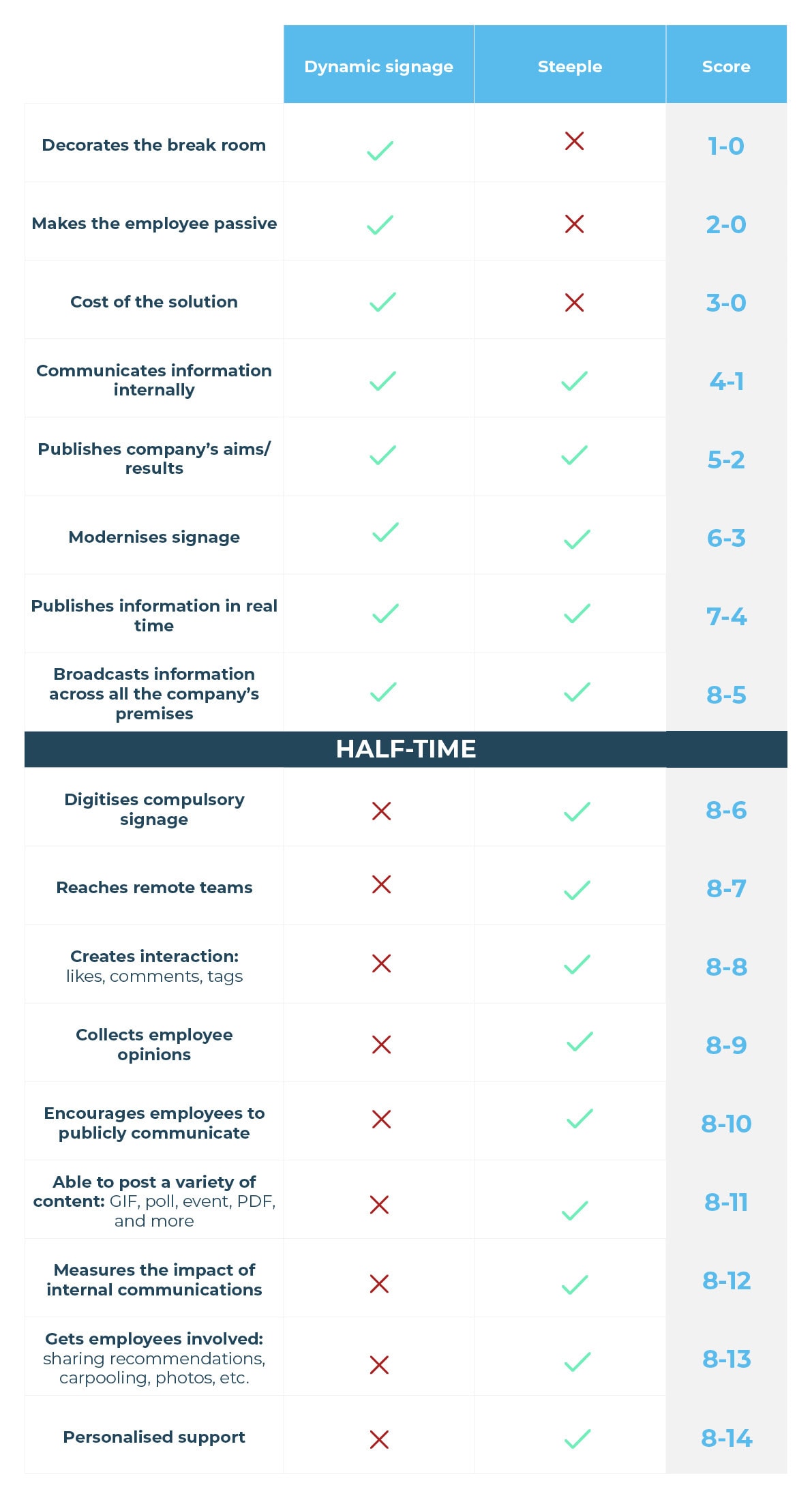 The numbers speak for themselves… Steeple wins !
#2 - A need: to improve internal communications
Investing in a dynamic signage solution shows a company is somewhat committed to improving internal communications. One third of employees believe they aren't kept well informed and one fifth even claim to not have all the information they need to do their job (study by Opinion Way).
A solution to the problem needs to be found, and quickly. It's a simple fact: digital displays attract more attention than paper ones. Making information more visual and easily accessible to employees will boost the effectiveness of your internal communications.
They also make it possible to have information displayed in real time across all the company's premises, ensuring employees have access to the same information at the same time.
#3 - A requirement to choose the right tool
Reach 100% of staff
When scrutinising dynamic signage solutions more closely, some limitations start to appear. Using a display that is only found on the company premises means you won't reach every single employee. Let's not forget that staff regularly travel for work!
Get employees involved
Likewise, dynamic signage only allows for purely top-down communication. Yet isn't the aim of improving your internal communications to achieve a more collaborative model where teams interact with other?
Some advice: to maximise employee engagement and cohesion, your communication should be top-down, bottom-up and transversal.
Collaborate!
Such display screens are often generally managed and used by one single person within the company. But when this person is away, no one picks up the baton. Hence the importance of involving your entire workforce in your internal communications.
The objective is that the whole company participates in the project so that there is a continuous flow of fresh news and information!
Quickly accessible
And if we look at it pragmatically, it's not the most efficient way to deliver a message. What often happens is that you walk into the break room, start reading what's on the screen and before you've even finished it will skip to the next announcement…
#4 - Steeple, the solution that makes dynamic displays obsolete
If you don't have the resources but an unused TV, dynamic signage can be used to decorate your lobby for anyone passing through. However, if you want to truly bring your internal communication into the 21st century and breathe life into the workplace, Steeple is the best solution.
Modern:
Appeals to younger generations
Collaborative:
Unites employees
Non-discriminatory:
Reaches disconnected or travelling employees
About the author
Read all the articles from the Steeple team, the experts in internal communication and employee experience